Child Care Center Art Enrichment Programs
We come to you!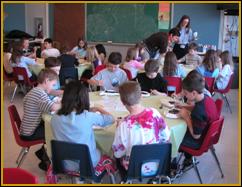 Learn To Paint!
Explore the art and fun of painting
plaster and ceramic art pieces
Appropriate for all ages with staff assistance!
We will bring an assortment of art pieces based on your designated theme, seasonal or holiday project.  Art projects can be curriculum related-we will work with your team leaders and teachers for the appropriate projects.
The kids will be introduced to colors, primary and blended, and shown a variety of techniques utilizing different brushes and sponges. All sessions will reinforce the seven basic elements of art, education, imagination and the self-esteem which results from creative expression. Sessions are hands on and very interactive.  Finished art pieces are glazed and glitter-sparkled as selected by each painter and taken home at the end of the class session. All art materials and painting smocks are provided.
All paints and Glaze* are
Non-Toxic, Odorless and Latex Free.
*Patented
Contact us for scheduling and pricing details.
Typical cost per child is $12.00
No additional transportation fees.